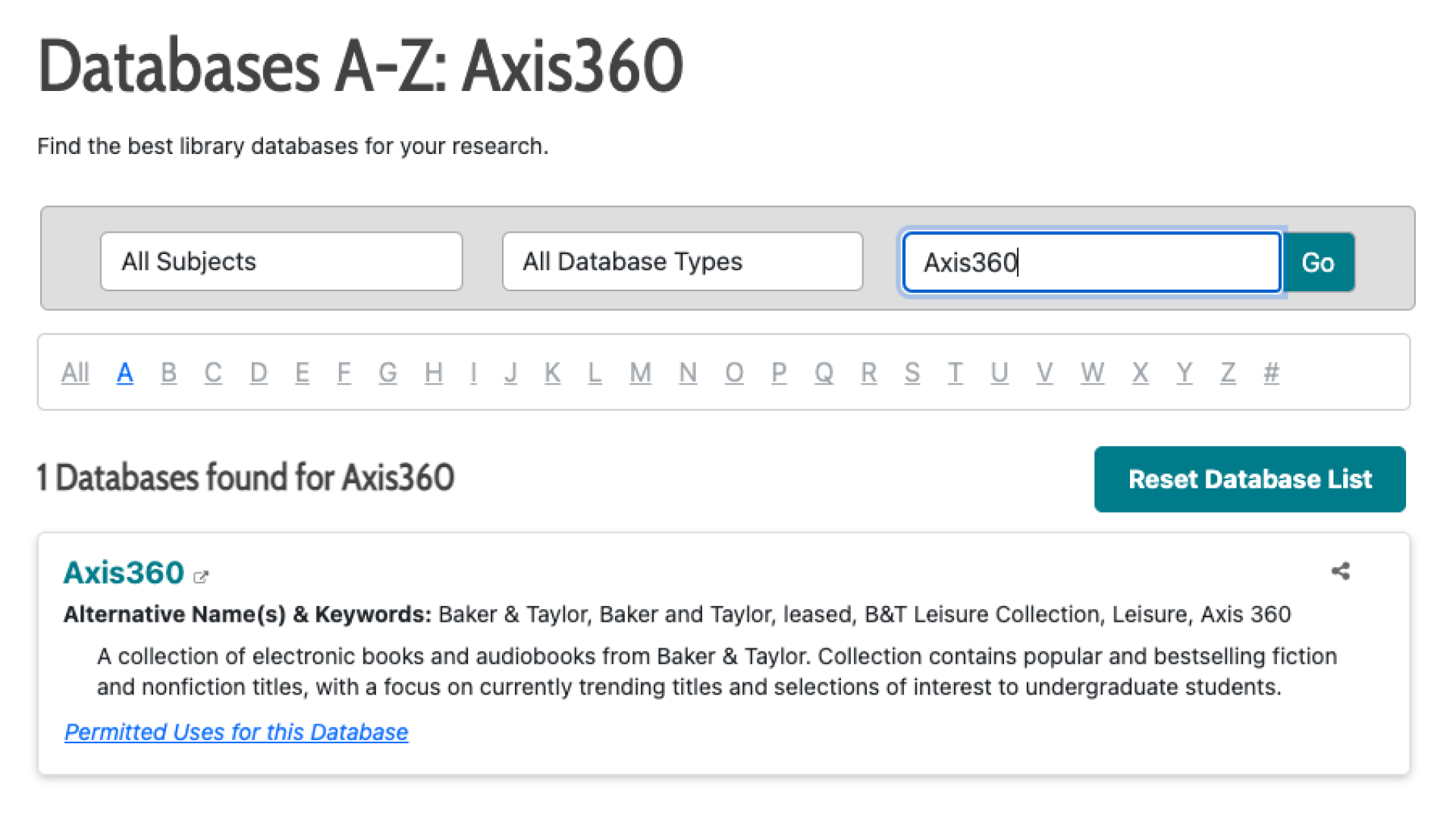 Like just about everything else, buying new popular books for the Miami University Libraries' leisure reading collection ground to a halt in March 2020. Student Success Librarian Laura Birkenhauer went from selecting ten new and trending books a month to, suddenly, none at all.
"One of my favorite aspects of my job just disappeared," Birkenhauer said. "Even more than that, I didn't like knowing that most of our students all of a sudden had a lot more time on their hands for recreational reading thanks to cancelled social activities early in the pandemic, but that initially we had no way to get 'fun' reading materials to them."
Ultimately, the events of 2020 inspired Birkenhauer to successfully propose moving the leisure reading collection to a digital format. Birkenhauer worked with Acquisitions & Access Librarian Cara Calabrese to pilot Axis 360, an online platform by publisher Baker & Taylor that lets students, faculty, and staff browse and check out e-books and audiobooks. Birkenhauer began ordering books in earnest for the pilot in fall 2021
It's a worthwhile investment: reading for pleasure is connected to academic success and cultivating a lifelong love of reading, and a 2020 study showed it could help students cope with mental health problems. A longitudinal study found reading books recreationally "was associated with decreased anxiety and depressive symptoms over the school year" and, for every additional book students read, psychological distress was further decreased.
Miami's Libraries started leasing popular books from Baker & Taylor in 2014 to replace a then-outdated collection of Libraries-owned books. After Birkenhauer and Arianne Hartsell-Gundy, the librarian leading the project at the time, noticed how popular nonfiction books, mysteries, thrillers, romances, and books adapted into movies were, they focused the new leased collection on these genres and other trending titles and New York Times bestsellers.
After the murder of George Floyd in May 2020, many organizations — including the Libraries — curated antiracist reading lists, leading to high demand for these and other titles focusing on race, history, and social justice. In late 2020, the Libraries' Diversity, Equity, and Inclusion (DEI) Committee invited library staff to apply for "mini-grant" funding for "diversity-minded library projects", and Birkenhauer jumped at the chance, submitting a successful proposal for funding to build the collection and ultimately adding 35 DEI-focused e-books to the Libraries' holdings in Axis360.
Users can search for all leisure reading titles through the Libraries' online catalog using the Books & More tab, or browse and search directly within Axis 360, which can be found in the Databases A-Z list. There's also a free Axis 360 app that lets users browse and check out e-books and audiobooks from the Libraries' collection on a mobile device.
Axis 360 even gives Miami students, faculty, and staff a way to ask the Libraries to add new books — if a user searches for a title the Libraries don't own yet, they can hit the "Search Titles to Recommend" button and choose titles to recommend for purchase. Birkenhauer reviews the recommendations monthly.
---