Two Miami undergraduates are getting a unique and comprehensive look at how libraries operate through a new student employment program this year. Hal Howard and Ashley Sankey are Miami's first participants in the OhioLINK Luminaries program, an initiative that aims to increase representation in library and information sciences careers among underrepresented populations in Ohio.
Through their paid, resume-building student employment in the Libraries and support from a mentor, Luminaries gain a broad introduction to the library and information studies profession by rotating through each of the different departments within the Libraries. This exposure to the wide variety of roles and specializations can influence a participant's decision to pursue a library career, and the hands-on training and networking opportunities bolster Luminaries' abilities to establish their careers.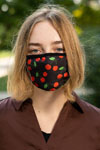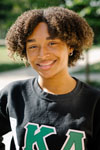 Hometown
West Alexandria, OH
Westerville, OH
Academics
Junior Computer Science major with minors in Bioinformatics and Statistical Methods
Senior History major with minors in Spanish and Museums & Society
What are you involved in around campus?
Miami University Bioethics Society
Spectrum
Anatomy & Physiology Club
Unidos
Alpha Kappa Alpha Sorority, Incorporated, Lambda Mu Chapter
Bridges Scholars

Do you have any hobbies?
Writing, philosophy, "trying to keep a plant alive"
Reading, baking, and traveling
What are your interests and areas of study?
"I'm interested in the intersection of computer science and health — bioinformatics, data sciences, and data architecture. In the spring I became interested in information science, and that's when I started looking at student employment at the library."
"Since I identify as biracial — Black and White — and Puerto Rican, I gravitate toward Black, Latin American, and Caribbean histories. In addition to this, within my centrations I aim to ensure that voices of minority groups that I personally do not identify with aren't left unheard."
What has your experience been so far at the Libraries?
"I actually applied for every open position at the library, and that's how I came to get involved with Luminaries. So far, everyone has been extremely welcoming, kind, and open to my many questions."
"Ever since I came to Miami, the experience has been enjoyable. I've been able to avoid paying for a significant amount of textbooks over the years by first coming to the library — most books on history, language, or arts can be found here. I've also enjoyed the Late Night Study Breakfasts."
What do you hope to gain from the Luminaries program?
"I'm looking forward to learning about how all the different departments interact and manage themselves — learning how libraries function."
"I hope to gain a concrete plan for the kind of master's degree I want to obtain. I believe this program will help me broaden and extend my understanding, and guide me towards a future in museology and archaeology."
What are your plans for the future?
"I'm hoping to graduate with my computer science degree and pay off my loans with a data-oriented job. From there, I plan to go onto grad school to earn my Master's in Library and Information Science and potentially another degree that would let me specialize further. Then — work and be happy."
"I'm a senior, so my main focus is to graduate in the spring. I will be taking a gap year for the 2022-2023 academic year and spend that time working as an intern or employee within a museum or library in order to work with archives and special collections. By the end of 2022, I intend on applying for graduate school to obtain my master's and potentially a doctorate."
---