Two projects at the Miami University Libraries are addressing discriminative and potentially harmful content in the Libraries' catalog, with the goal of creating a more inclusive library system.
A group led by Masha Stepanova, the coordinator of cataloging and Slavic librarian, is adding alternatives to pejorative subject headings in the catalog, while Digital Collections Librarian Alia Levar Wegner and her colleagues are adding content warnings to sensitive images within the Libraries' digital collections. Both projects seek to minimize stigmatization and stereotyping while preserving access to information.
A Difficult Subject
Like thousands of other institutions, Miami's Libraries use Library of Congress Subject Headings to categorize books, articles, journals, and other materials in its catalog. This set of standardized words and subject groupings creates consistency across different library systems and makes it easier for researchers to search and discover materials.
The full set of terms spans millions of topics and subdivisions and gets revised on a regular basis as language and needs evolve. The process can lag significantly behind the times, however — it wasn't until 2009 that the archaic term cookery was revised to cooking, for example — and when an outdated term refers to a group of people, the result can be more harmful.
Since choosing subject headings involves subjective decision-making at the Library of Congress, the process is not free from bias. "We're using terminology developed from a western, predominantly white, predominantly male perspective, and so these terms reflect that," notes Digital Discovery Librarian Justina Kaiser, a collaborator on the project.
Illegal aliens is one such subject heading. In 2014, students and librarians at Dartmouth College asked the Library of Congress to revise illegal aliens to undocumented immigrants. The body initially refused, citing the use of illegal aliens as a legal term, but then announced they'd reconsidered after continued calls for the change, including a resolution from the American Library Association. However, after Republican legislators mounted an unprecedented intervention, the revision stalled.
That hasn't stopped individual libraries from stepping up to make the correction. "The authority of the Library of Congress system is conferred," said Stepanova. "We and other libraries use it because there isn't anything else, but it's not mandated. We're free to diverge from it, and a lot of libraries have developed local vocabularies."
In 2019, Stepanova and Library Associate Stephanie Blankenship began the painstaking process of adding undocumented immigrants and noncitizens to all catalog records previously under the headings illegal aliens and aliens. "Plus all the subheadings!" said Stepanova. "There's 'children of illegal aliens,' 'church work with aliens', 'women illegal aliens', 'alien criminals'... it gets very confusing."
In order to ensure Miami's records would remain searchable under the outdated terms and consistent with other institutions, Stepanova and her colleagues decided to add the new subject headings on top of the outdated terms rather than replace them altogether. Work is underway to change how the headings are displayed in the public-facing catalog to ensure the new headings take precedence.
With thousands of new catalog records introduced every week, continually remediating the catalog manually isn't possible, so Kaiser hopes to find ways of automating the process. It's no easy feat, involving a complex interplay of different data sources and layers of software systems.
"We're trying to do things non-destructively so records are still searchable under the old terms, but we also have to make sure our changes don't get overwritten when new data comes in through OhioLINK or when the Library of Congress revises its subject headings — both of which happen regularly," said Kaiser.
Both agree the work is more than just symbolic: "when people see terms used to describe people, it's actually training them to think of those people in those terms," Stepanova said. "We have a responsibility to be humane in how we describe people."
The work is also expanding to address more terms that are outdated, inaccurate, contribute to stereotypes, or discriminate. Stepanova is working with the Myaamia Center on subject headings about indigenous people — the Library of Congress still uses the term Indians — and also is investigating headings for race and gender.
"The main goal is to make sure our subject headings accurately reflect the subject they talk about," said Stepanova. "And as part of that, it's important that we reflect what the people we're describing want to be described as."
Putting images in context
At the same time Stepanova and her colleagues are working with sensitive text, Digital Collections Librarian Alia Levar Wegner is figuring out how to appropriately display sensitive visual materials.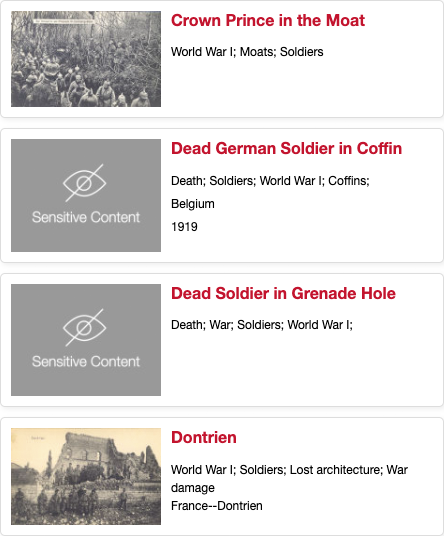 The Libraries' digital collections comprise hundreds of thousands of digitized material from the Walter Havighurst Special Collections and University Archives. As the stewards of these historic materials, the Libraries have an obligation to preserve the past — even when the contents are sensitive or objectionable. But when graphically racist, sexual, violent, or culturally sensitive images can appear unexpectedly in search results, it's important to give users a choice of whether or not to view them. A new feature in the Libraries' digital collections platform — perhaps the first among Ohio libraries — achieves just that.
"Digital collections are uniquely a visual platform," said Alia Levar Wegner, digital collections librarian. "And while we spend a lot of time using metadata like keywords, subject headings, and descriptions to make sure we describe materials accurately and in a way that is culturally sensitive to the cultures and communities represented, it's equally important to consider this in the sense of images themselves."
In the past, it was generally assumed that researchers would be prepared to encounter sensitive content while working within the historical context of a particular collection. However, efforts in recent years that make the Libraries' collections more widely accessible online have introduced the risk of exposing users to sensitive content unexpectedly.
"People are approaching our digital collections like Google nowadays — putting in a keyword and searching across all our collections. This certainly makes research more dynamic and accessible, but it also means that you don't necessarily know what's going to pop up in the search results," said Wegner. "An innocuous search for 'children' could potentially turn up a racist caricature from a legacy collection, for instance."
Wegner began inventorying sensitive content in the Libraries' digital collections, looking for problematic or sensitive content in four categories: graphic sexual content, violence, culturally sensitive content, and racist and stereotypical depictions. In the first pass, she flagged 99 images in which the sensitive content was discernible from the thumbnail.
Then, she added an icon and text over the thumbnail in search results indicating that the image contains sensitive content. "This approach gives people the choice to opt-in if they want to view it," said Wegner. She also added information to the images' metadata indicating the type of sensitive content depicted.
While the project is still in its infancy, it's a crucial step forward to ensuring the Libraries remain a safe environment as it continues to increase access to its collections.
A continued effort
While some opponents to revising subject headings or adding content warnings might allege the efforts are an attempt to erase history or censor information, the reality is the efforts are born out of — and result in — a more complete understanding of and greater context for the materials affected. When subject headings reflect a better cultural understanding of the communities they describe, they paint a more accurate picture of the subject matter for researchers.
And at times, the objectionable nature of the content is precisely why a particular item is valuable to researchers. Many of the images Wegner added content warnings to are in the Libraries' Shields Trade Card and Advertising Collection, a collection of 19th and 20th-century advertisements. These cards were used to sell products, often using racist, sexist, and stereotypical tropes. "The Introduction to Strategic Communication course uses this collection specifically to study and contextualize racism and sexism in advertising," said Wegner. "Having the opportunity to learn about this history makes them more culturally sensitive and aware advertisers."
Together, the efforts further the Libraries' commitment to fostering an inclusive and welcoming environment while continuing to preserve and provide access to a rich array of resources.
"The materials we've been entrusted with hold tremendous cultural and scholarly value," said Dean and University Librarian Jerome Conley. "We have a duty to provide our community with the right context for these resources, and I'm proud of the way our staff continues to advance those goals as technologies and the methods of research evolve."
---