With grant funding awarded by the Miami Initiative for Advancing, Mentoring, and Investing in Women (M.I.A.M.I. WOMEN) through their competitive HawkTank program, the University Libraries have begun digitizing a robust collection of materials donated by Carolyn Jefferson-Jenkins, a 1974 graduate of Western College for Women.
The collection contains more than 13,000 documents, videos, records, papers, and ephemera from Jefferson-Jenkins' life and career, including her service as national president of the League of Women Voters and chair of the League of Women Voters Education Fund. Jefferson-Jenkins recently delivered the commencement address for Miami University's class of 2021 and was awarded the Freedom Summer of '64 Award from Miami University in recognition of her work advancing civil rights and social justice in America.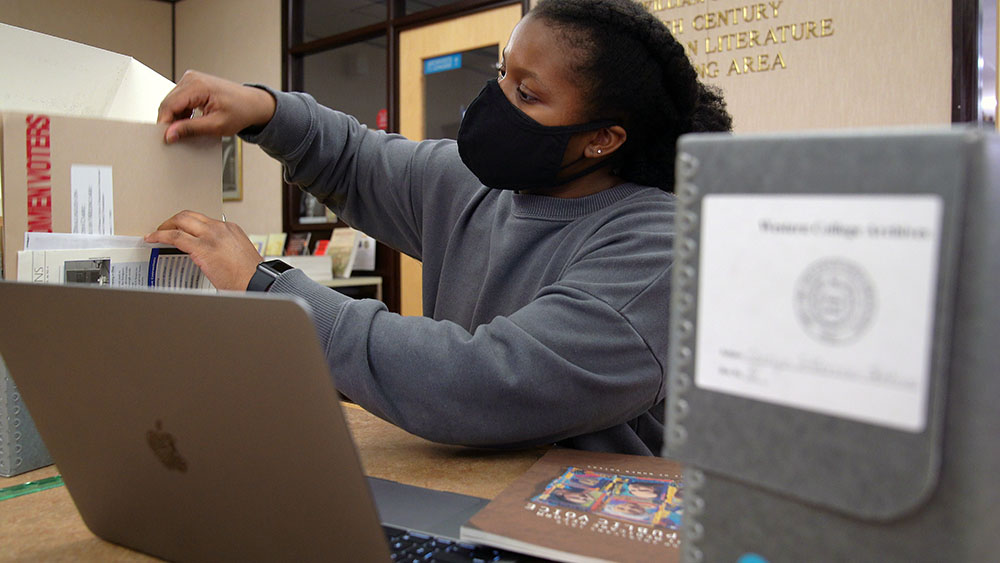 Digitizing a collection is labor and time-intensive, and so part of the $16,670 awarded by M.I.A.M.I WOMEN funds the hiring and training of student employees to assist in the Libraries' highly orchestrated digitization efforts. Libraries student employee Adrianna Parker '23, a Strategic Communications major, works closely with the collection and moves materials through inventorying, digitization, and eventual publication online. As new materials arrive —Jefferson-Jenkins donated an additional 7,405 pages of material over the past year — the collection continues to grow in size and historical significance.
In addition to the collection itself, the grant is also funding work by the Libraries to develop an educational website and engaging Jefferson-Jenkins in two speaking opportunities to discuss her work and interact with students and alumni at Miami. Digital Collections Librarian Alia Levar Wegner, University Archivist Jacqueline Johnson, and Head of the Steward & Sustain Department William Modrow collaborated on the successful grant application and are overseeing the project.
The Jefferson-Jenkins collection will join nearly 50 other diverse digital collections on the Libraries' website.
---