In Miami University's archives in King Library, first-year student Nya Hodge pored through box after box of student publications dating back as early as 1827, searching for poetry written by fellow Miami students. What she found left a lasting impression.
"It made me realize that the things we do here matter, and are a part of history," said Hodge. "I sometimes think we forget that—that what we do leaves imprints on the space. I think that's nice to know."
Hodge, along with first-year Anastasija Mladenovska and senior Caroline Funk, co-curated the exhibition "Poetry at Miami" with Humanities and Social Sciences Librarian Mark Dahlquist, each selecting poems written by Miami students from 1827 to the present day.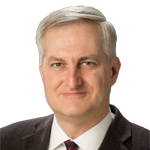 Dahlquist's idea for the exhibition grew out of his interest in Miami's collections of student publications that stretch back to the early 1800s. Working with his colleagues from the Walter Havighurst Special Collections and Archives—Tiffany Dogan, library associate; Jacky Johnson, university archivist; Rachel Makarowski, special collections librarian; and Alia Levar Wegner, digital collections librarian—he began to envision how best to curate the vast body of work in the archives.
"I thought the people best suited to tell that story would be students themselves," he said. "I think that's kind of what Miami's all about: putting students in positions to do interesting things."
The resulting exhibition paints a rich picture of the student experience at Miami, exploring self-discovery, world events, personal vulnerability, and what it means to be a part of Miami University. Despite the years separating some of the poetry from the present day, the student curators discovered that poetry uniquely illustrates the connections and universal experiences shared by Miami students.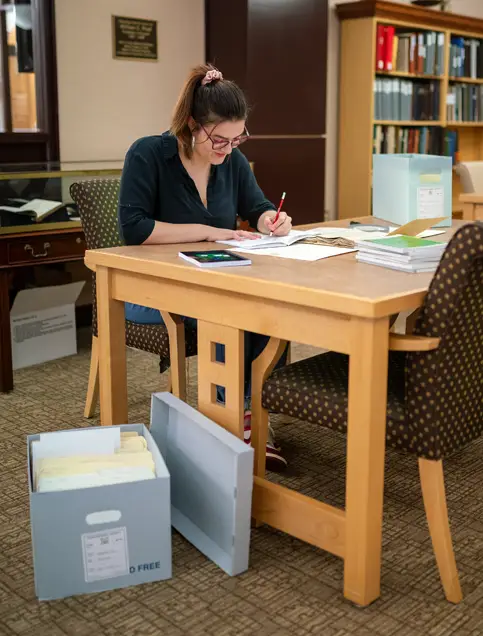 "The only commonality a lot of us have is that we go to Miami," said Mladenovska. "This is where you intersect those experiences: how you experience Miami. It ties you to other students."
Experienced together, the poetry presents "a thought-provoking experience," according to Mladenovska, and Hodge agrees: "Poetry is a vulnerable art form—it's one of the rawest ways you can see what it's like to be a student here," she said. "By collecting so many poems, across so many identities, it displays student life in a way that's honest, diverse, and demonstrative of the student voice."
These voices resounded meaningfully with Funk, who saw students throughout history grappling with issues that remain prominent in young people's lives today. "No matter what time period I looked at, I saw students struggling with underrepresentation, discrimination, or just feeling like they were on the outside," Funk said. She was struck by the ways students advocated for themselves and their identities through their poetry and the act of publishing it.
"I'm so happy that this exhibition is able to capture the student activism that's been present throughout the years at Miami and how poetry can amplify marginalized voices and the student perspective."
In addition to earning a stipend from the Libraries for their curatorial work, Funk, Hodge, and Mladenovska each discovered meaningful lessons from the experience—both personal and academic.
"I was able to expand my curiosity, and I also felt like I bring something important and valuable," said Mladenovska. "It made me think about interdisciplinarity more."
"Working with my fellow curators and librarians has been so rewarding," added Funk, who found value in the opportunity to "collaborate and think through the value in representation through student work."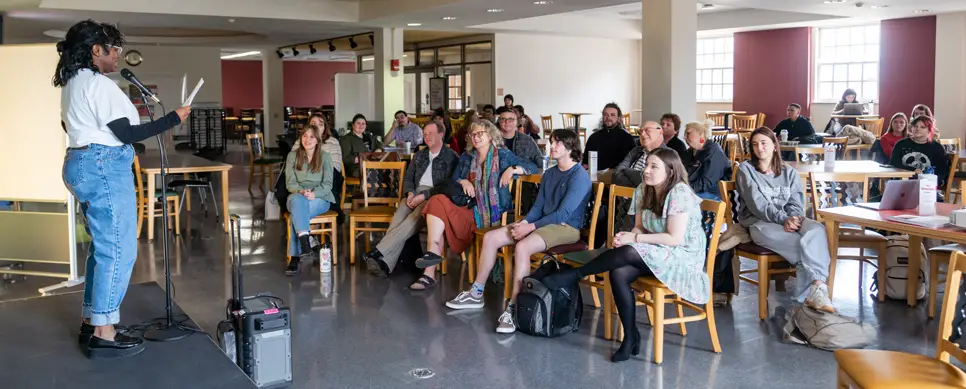 Hodge sees more curating in her future.
"I have had so much fun, and I've learned so much about the university and professionalism by interacting with people like the staff in the Myaamia Center—learning about what it takes to execute diversity well," she said. "This was a really fulfilling experience."
"Poetry at Miami" is currently on display in the Walter Havighurst Special Collections and Archives in King Library.
---