Reflections from a Luminary: a student employee blog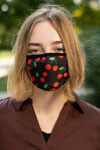 My name is Rill Howard, and I'm a third-year studying computer science at Miami University and working as an OhioLINK Luminary with the Miami University Libraries. I hope to pursue a career in library and information science. Within the series of articles, I detail my experiences and learning thus far while working with various departments and on various projects at the Miami University Libraries. 
Readers can look forward to learning about the process of creating metadata for a digital collection currently in progress, the experience of delving into web design for (almost and practically) the first time, the projects and potential of makerspaces and maker literacy, how to acclimate to the task flow of running statistics for about 5 hours on end within a month, and the considerations that go into course design.
With this, I hope to effectively shed light in brief takeaways to interested faculty and students, informatively to the projects, and personally to the experiences of my involvement, learning, and contribution with them.
Before delving in, I would like to emphasize that the learning in this program is rapid-fire. The Miami University Libraries are very effective in setting up ample opportunities to learn how their departments work as well as to contribute to the projects that these departments are responsible for, and they have many departments with many large, ongoing projects in each. As such, the learning curves associated are intense and frequent. To this day and as a relatively socially engaged student, I have never heard of a comparable experience, and as those in the College of Computing and Engineering know, computing and engineering students are all about experiential learning.
Without further ado…
Entry 1: Findings in the Metadata Development of the Documenting the COVID-19 Pandemic Digital Collection
---