Findings in the Metadata Development of the Documenting the COVID-19 Pandemic Digital Collection | Reflections from a Luminary Entry 1
The digital Documenting the COVID-19 Pandemic collection holds a vast array of perspectives and experiences, in multiple formats, of students, faculty, staff, alumni, and even entire courses, pertaining to life during the COVID-19 pandemic and quarantine. In November of 2020, the libraries began accepting digital (and a few physical) submissions for the collection in development between Special Collections Librarian Rachel Makarowski and University Archivist Jacky Johnson.
While working on the metadata for the collection, I was able to read up on experiences from within the community, some of which won't be accessible to the public for up to or over the next century. I've definitely learned that there's a challenge in knowing certain information and not being able to share it, such as funny or endearing scenarios that people got up to during that time and chose to document. I just know that when these pieces are available to the public, they will definitely be useful in establishing that people were people and they still found ways to get up to fun shenanigans during quarantine. 
An interesting and even intriguing note may be that the Extent of nearly all submissions was either under or around 10 pages (including those of honors students who wrote these for a grade), or above or around 70 pages, with far fewer submissions' extent notably between. I do wonder if that's a local case to the circumstances, environment, and time, or if this is part of a larger journalling pattern.
Before metadata can be gathered, a metadata template must be built. I was not involved in the process of building the collection's metadata template. Digital Collections Librarian Alia Wegner built a custom template for the collection, beginning from a standardized template. Standardized templates are used in order to establish semantic commonality so that metadata fields can be quickly understood between collections and even institutions. Once the digital collection's template had been finalized, the metadata curation phase of the process began and has been ongoing ever since.
This template includes the following fields, along with a few which are less relevant to those uninvolved with the collection's maintenance: Title, Creator, Contributor, Publisher, Submitter, Date Created, Date Published, Date Submitted, Date Available, Place of Creation, Extent, Summary, Subjects (TGM), Local Subjects, Keywords, Genre (AAT), Language, Type, Permissions, Preservation File Name, and Metadata By.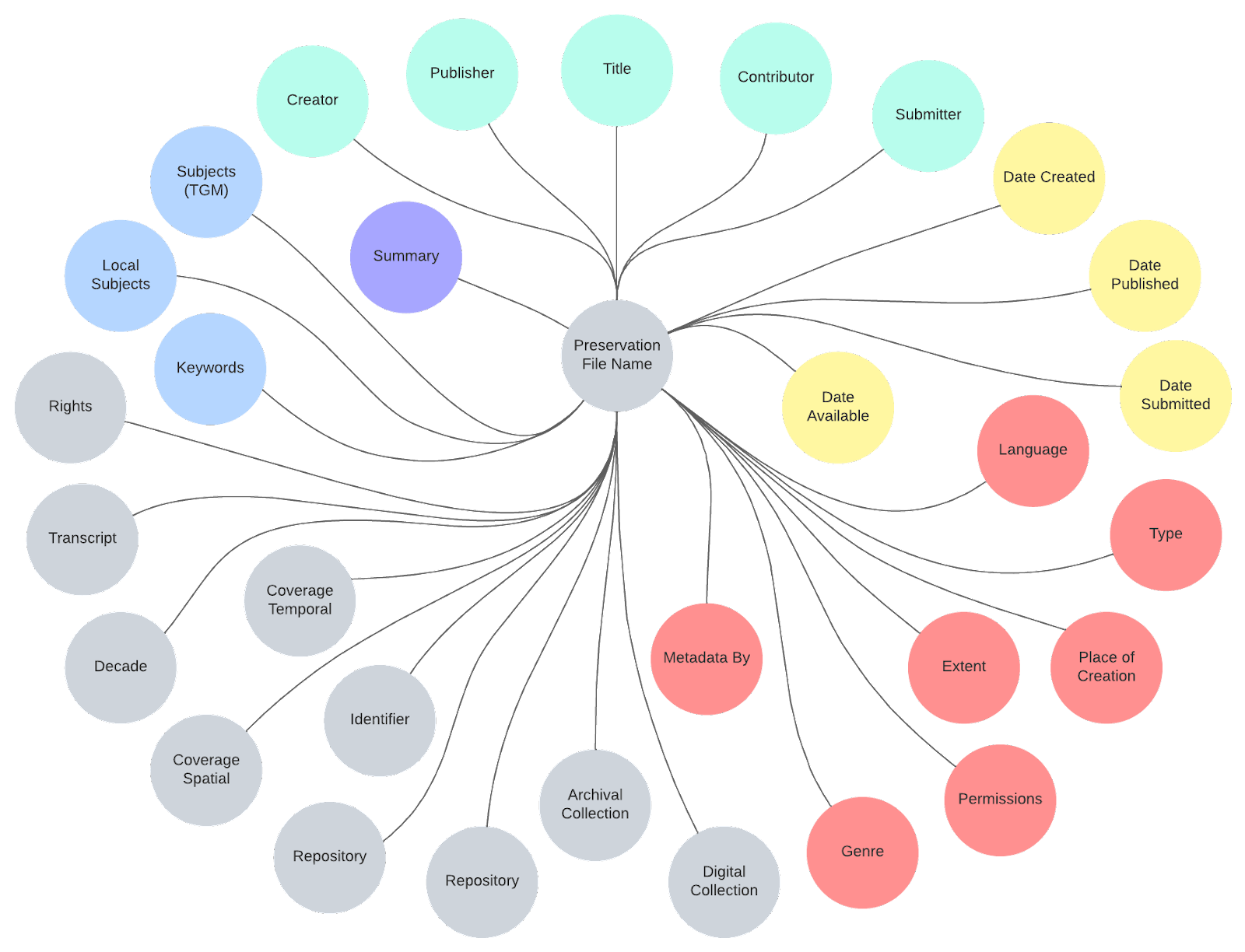 A few examples of some of these fields are displayed below.
Place of Creation
Ohio--Oxford Texas--Houston
Extent
5 pages 71 pages 138 pages 00:48:23 minutes
Subjects (TGM)
Mental health Musicians Grandparents
Local Subject
Student Life Miami University–Middletown
Keywords
Covid pets Underage alcohol consumption Political discussion Remote internship Face-to-face learning Zoom fatigue
Working with this collection was a fun experience. I definitely had to jump right into the deep end, with my prior understanding of metadata extending as far as social media's usage of hashtagging, a few archival sites' usage of fields, and a technical course in the underpinnings of how to develop and utilize databases. That is to say: my understanding of the purpose and requirements of metadata was barely functional. Thankfully, Preservation Librarian Kimberly Hoffman was able to help me get up to speed.
Luckily for me, Special Collections keeps guides available for familiarizing with metadata, the process of generating helpful metadata, and the differences between various related metadata fields. A few good rules of thumb can be summarized as: "be formal, be informative, and don't shy away from risqué keywords." This is incredibly important as, if such terms, underage alcohol consumption in particular being one in the third category, remain non-denoted, researchers studying these subjects will not be able to utilize metadata to research efficiently.
During this time, I was able to complete some training with the Preservica preservation suite, and learn about different storage techniques during times when I needed to briefly break my attention away from the collection in progress. I'm now learning the math behind how these considerations are taken into account from Dr. Karen Davis in one of my degree electives. Alongside such, I also learned a bit about how Miami University specifically chose their various storage services and utilities within a book that Hoffman suggested reading up on, Digital Preservation in Libraries: Preparing for a Sustainable Future by the Association for Library Collections and Technical Services (ALCTS).
The metadata of collections is highly helpful in encouraging successful discovery and analysis. Miami University's Student Health Center, known for spamming students with alcohol usage surveys, among much less easily filtered-away work such as the AlcoholEdu wellness module, may be interested in that particular keyword juxtaposed with the Local Subjects term "student life."
Looking into the subtle differences between fields, Submitter and Creator, for instance, define the significance of legal name versus preferred name to be referenced on-file. It should be noted that there is no way to verify that all of the content within submissions to this collection genuinely reflect a submitter's experiences. A submitter under the age of twenty-one could be either truthful or dishonest about involvement in various organizations or even about drinking, for any reason, clout included. Subjects (TGM) denotes widely-accepted terms held by The Thesaurus for Graphic Materials, while Local Subjects refers to the university's collection of terms, cross-collection, and Keywords speaks to terms strictly associated with a given collection.
Date Published refers to the date within which a piece is published; if a piece is published first outside the collection, this will differ from Date Submitted. If a piece has Permissions status Embargoed, then that piece's Date Available will differ from Date Submitted. If a piece is created on the same day as it is submitted, Date Created and Date Submitted will share the same date.
It should be noted that submissions are still being accepted for this collection, and will continue to be accepted for the near and foreseeable future. I, myself, am planning on writing a reflection to submit, hopefully in the late summer academic term. If any student readers are interested in learning about and working with collections or metadata, I highly suggest sending an email to Library Associate Tiffany Dogan.
---